We have several Block of the Month programs. See below for a photo and brief description of each of these beautiful quilts.
Call us at (518) 767-2040 to register and begin receiving the Block of the Month of your choice.


FRIENDSHIP SQUARE
Friendship Square is a foundation paper pieced Block of the Month program. Each month you receive 1800s reproduction fabric and foundation paper piecing patters to make four 6" blocks. This is an ongoing BOM. You tell us when you want to start and when you want to end. Make anything from a table runner to a king size quilt! Cost: $10 per month. (Pictured below are examples of two paper pieced blocks for one month.)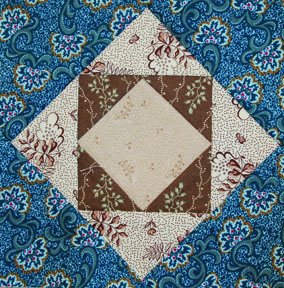 Graphic Gems: Lapis & Emerald

Staring March 2018

Sarah J. Maxwell says "Wandering along a quiet path, enjoying the sights and sounds of nature, always recharges my creative energy. Graphic Gems captures a random stroll along a beach or in a garden, from stepping stone to stepping stone, taking in the bursts of color of flora and fauna, symbolized by a dazzling variety of star blocks." This is a gorgeous quilt made with 10 ½" precut squares from Sarah's Primo Batiks Jewel collection by Marcus Fabrics. Join us in this 9-month BOM! $33 per month.


Bristle Creek Farmhouse
Staring January 2018

The prints in Paula Barnes' new collection, Bristle Creek Farmhouse, was inspired by an antique quilt top discovered in Florida. The group features rich greens, blues, browns, reds and golds and a coordinating border stripe. The Bristle Creek Farmhouse BOM quilt by Paula and Mary Ellen features a Tree of Life center medallion, surrounded by 14 different 6" blocks, repeated to create a showcase design. Finished quilt measures 95" X 95" This is a 12-month program; $28 per month. Sign up soon!