We have several Block of the Month programs. See below for a photo and brief description of each of these beautiful quilts.
Call us at (518) 767-2040 to register and begin receiving the Block of the Month of your choice.


FRIENDSHIP SQUARE
Friendship Square is a foundation paper pieced Block of the Month program. Each month you receive 1800s reproduction fabric and foundation paper piecing patters to make four 6" blocks. This is an ongoing BOM. You tell us when you want to start and when you want to end. Make anything from a table runner to a king size quilt! Cost: $10 per month. (Pictured below are examples of two paper pieced blocks for one month.)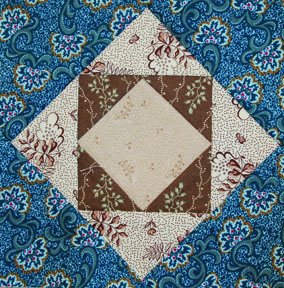 Pride and Joy

Stitch Along Program by Kim Diehl
This is a new BOM from Henry Glass using Kim Diehl's newest collection "Helping Hands".
This is six-month program beginning in February 2018. You will receive fabrics for the top and binding for this 64 1/2" square quilt. $38 per month

Bristle Creek Farmhouse
Staring January 2018

The prints in Paula Barnes' new collection, Bristle Creek Farmhouse, was inspired by an antique quilt top discovered in Florida. The group features rich greens, blues, browns, reds and golds and a coordinating border stripe. The Bristle Creek Farmhouse BOM quilt by Paula and Mary Ellen features a Tree of Life center medallion, surrounded by 14 different 6" blocks, repeated to create a showcase design. Finished quilt measures 95" X 95" This is a 12-month program; $28 per month. Sign up soon!
Floral Menagerie

Starting January 2018
This is a bright, fun quilt that features easy piecing and simple appliqued blocks in gorgeous colors. This is a great skill building quilt to hone your piecing skills! In this BOM you will receive instructions and fabric to make a portion of the quilt each month 12 months. This program includes the pattern and all the original Floral Menagerie Collection fabrics from In the Beginning Fabrics needed to make the quilt top, applique, borders and binding. You will be given ample fabric to the appliques to complete in the technique of your choice. The finished size of the quilt will be 72" x 96"; or you can make three smaller quilts 48" x 48"; $20 per month.
PEACEFUL HOLIDAY
Perfect for the holiday season with trees, trains and so much more! This quilt was designed by Jason Yenter and uses his fabric line, Peaceful Holiday, from In the Beginning Fabrics. The program includes the book and the fabric for the top and binding. Techniques used include piecing, paper piecing and fusible applique. Includes all fabric for the top and binding. Finished quilt: 81" x 81"; 5-month BOM; $43 per month.
HATTIE'S GARDEN
Hattie's Garden is a gorgeous appliqué project which consists of 21 blocks showcasing 10 different flowers. Ten of the blocks are baskets with flowers and ten of the blocks are flowers from a corner triangle. The center medallion has a basket full of all the flowers used in the other blocks. Includes all fabric for the top and binding. Finished quilt: 70" x 70"; 12-month BOM; $18 per month. Sign up!

STAR-SPANGLED LIBERTY
Star Spangled Liberty is an Americana celebration quilt, bursting with patriotic pride! As a unique row quilt, the design features a vertical "quilter's flag" and six horizontal star rows. The center row features several flag/star blocks and patriotic parade pinwheels, along with the option of appliqued "America" and stars, or more pieced star/flag blocks and pinwheels. The Star Spangled Liberty collection is a beautiful array of assorted red, light and blue prints created especially by Pam Buda for this BOM program quilt. Short anecdotal historical paragraphs are included about early American history relating to the creation of the first Stars & Stripe flag, the Pledge of Allegiance, the National Anthem, and first flag maker, Betsy Ross. Includes all fabric for top and binding. Finished quilt: 75" x 78"; 9-month BOM; $28 per month. Stop by to see the quilt in person. Sign up anytime!

MILL GIRLS HOLIDAY
Combine fabric from the Old Sturbridge Village collection by Judie Rothermel for Marcus Fabrics with a traditional medallion sampler design and you get Mill Girls Holiday! The pattern is by Nancy Rink and includes historian Oliver Rink's introductory essay on the Lowell Factory System and the Mills Girls who worked there. It includes actual letters written by the Mill Girls themselves. Includes pattern and all fabrics for the top and binding. Finished quilt: 96" x 96"; 10-month BOM; $28 per month.